News
Why Get Your Meat Delivered?
by Darius Campeau on May 05, 2023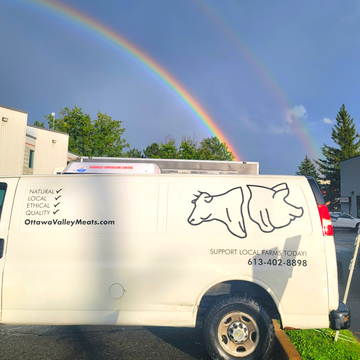 Meat delivery has become increasingly popular in recent years, and for good reason. It's a convenient way to get high-quality, locally-sourced meat delivered right to your doorstep. Our company  stands out in this space, as we offer a wide range of products sourced from local farms.
One of the main benefits of meat delivery is the quality of the meat. When you order from a reputable company like Ottawa Valley Meats, you can be confident that the meat you're getting is of the highest quality. The company partners with local farms that prioritize ethical and sustainable farming practices, ensuring that the animals are treated well and the meat is healthy and flavorful.
Another advantage of meat delivery is the convenience. With Ottawa Valley Meats, you can easily order online and have your meat delivered straight to your door. This eliminates the need to go to the grocery store and spend time searching for high-quality meat. Plus, the meat is delivered frozen, so you can stock up and always have delicious, high-quality meat on hand.
In addition to the quality and convenience, meat delivery from Ottawa Valley Meats also supports local farms and the community. By buying from local farms, you're supporting small businesses and helping to sustain the local economy. Plus, you're reducing the environmental impact of transporting meat over long distances.
In summary, meat delivery is an amazing option for anyone who wants high-quality, locally-sourced meat without the hassle of going to the grocery store. Ottawa Valley Meats in particular stands out for their commitment to quality and supporting local farms. Try them out for yourself and taste the difference!