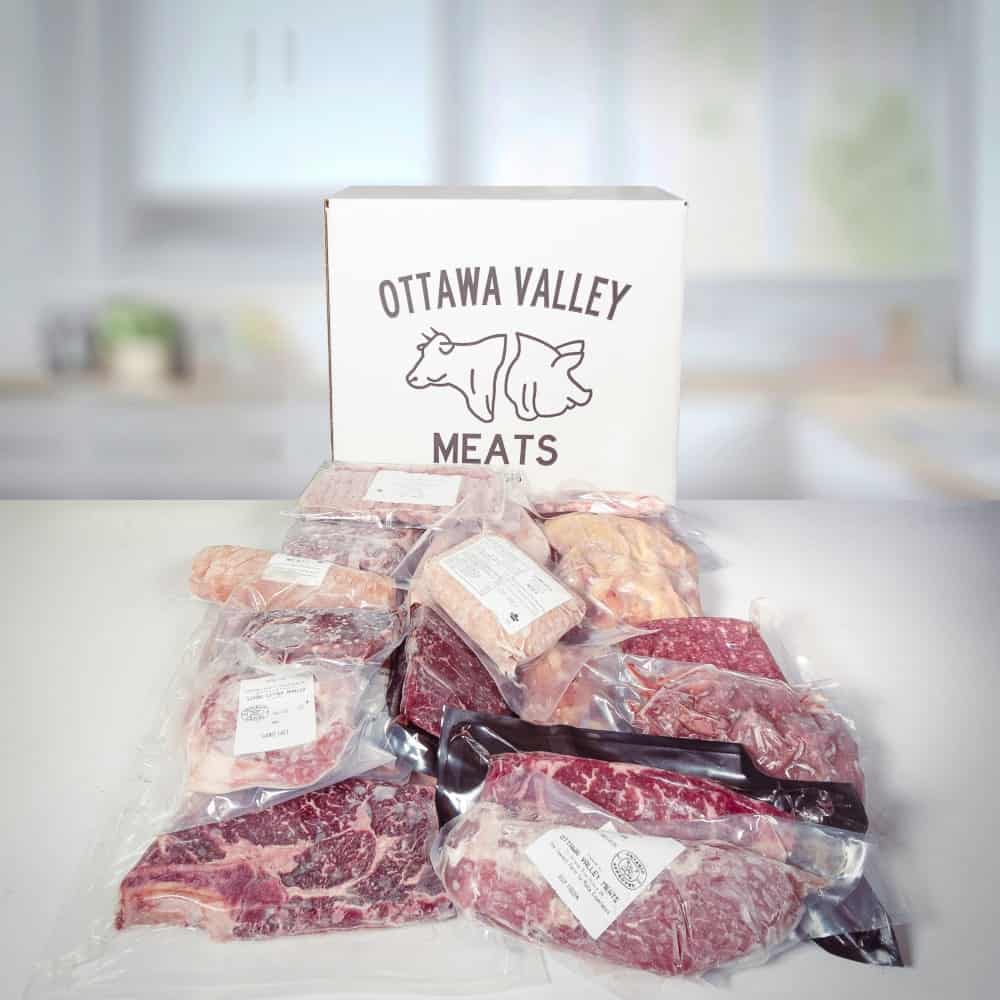 Translation missing: en.products.product.price.regular_price
$985.00
Translation missing: en.products.product.price.sale_price
$985.00
Translation missing: en.products.product.price.regular_price
$1,295.00
Want to stock up on meats and get a deal? Fill your freezer!

*No substitutions. If this bundle is not to your liking kindly please shop our à la carte menu to create your own bundled box*
Fill Your Freezer
Translation missing: en.products.product.price.regular_price
$985.00
Translation missing: en.products.product.price.sale_price
$985.00
Translation missing: en.products.product.price.regular_price
$1,295.00
Product description
Shipping & Return
Want to stock up on meats and get a deal? Fill your freezer! With a mix of our best sellers and staples, this is perfect for anyone looking for a freezer full of beef, pork and chicken. Everything is from small family farms in the Ottawa area, all-natural/organic, free-range, grass-fed, and dry-aged.
This box is designed to fill a 5 cubic foot standalone chest freezer (freezer not included), so make room! 
Products in this Box
20 x Ground Beef
5 x Striploin Steaks
2 x Sirloin Roast
6 x Sirloin Steaks
20 x Pork Chops
1 x 5lbs Virginia Smoked Ham
5 x Bacon
10 x Boneless/Skinless Chicken Thighs
4 x Whole Chicken
5 x Chicken Wings
5 x Chicken Drumsticks
5 x Ground Chicken
10 x Boneless/Skinless Chicken Breast
All our orders are hand-packed before delivery. Human error can happen, and we want to make sure we fix it as soon as possible. Within 72 hours of delivery, please notify us of any issues you may have with your order. We'll assess the issue and decide the best course of action.
Delivery process is as follows:
We will send automated delivery notification updates on the day of delivery
Driver will attempt delivery. Will knock/ring/call.
If there is no response, driver will leave package at door and you will then receive a delivery notification email that your order has been delivered.  If you live in an apartment/unit, and the driver can not reach you to gain access to the building, we will bring the package back to our warehouse unless you leave clear instructions for delivery.
The package will be kept at our warehouse for pickup at your convenience during business hours. We can offer a second delivery for a $25 fee.