Farm Fresh Blog
White Wine Atlantic Mussels
by Darius Campeau on May 04, 2023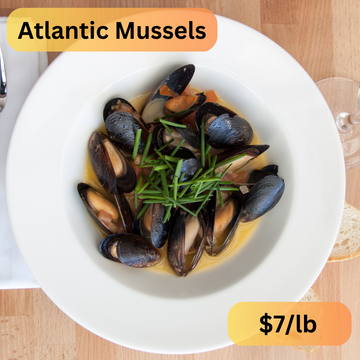 Mussels cooked in wine are a classic dish that is both simple and delicious. Here's a recipe for wine-based mussels that's sure to impress your guests:
Ingredients:
2 lbs fresh mussels
1 cup dry white wine
1/2 cup chicken or vegetable broth
1 shallot, finely chopped
3 garlic cloves, minced
2 tbsp butter
2 tbsp olive oil
2 tbsp chopped parsley
Salt and pepper, to taste
Directions:
Clean and debeard the mussels by scrubbing them under cold water and removing any seaweed or barnacles. Discard any mussels that are open or do not close when tapped.

In a large pot, heat the butter and olive oil over medium heat. Add the shallot and garlic and sauté until softened, about 3 minutes.

Add the white wine and broth to the pot and bring to a boil.

Add the mussels to the pot and cover with a lid. Cook for about 5-7 minutes or until the mussels have opened.

Remove the mussels from the pot using a slotted spoon and transfer to a large bowl.

Add the chopped parsley to the cooking liquid and stir to combine.

Pour the cooking liquid over the mussels and serve immediately with crusty bread or fries.
This wine-based mussel recipe is perfect for a romantic dinner for two or as a starter for a dinner party. The white wine and broth create a flavorful and aromatic broth that complements the delicate flavor of the mussels. Enjoy!