Farm Fresh Blog
The Luxurious and Mouthwatering Wagyu Striploin: Everything You Need to Know
by Marie Williams on May 11, 2023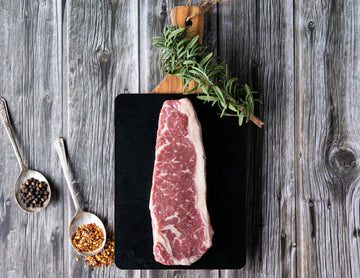 Wagyu beef has taken the culinary world by storm in recent years, with its melt-in-your-mouth texture and buttery flavor. One cut of Wagyu that has gained popularity is the striploin. In this blog post, we'll dive into everything you need to know about the luxurious and mouthwatering Wagyu striploin.
What is Wagyu beef?
Before we dive into the specifics of the striploin, it's essential to understand what Wagyu beef is. Wagyu is a breed of cattle that originated in Japan, known for its high marbling and rich flavor. The term "Wagyu" translates to "Japanese cow" and refers to four different breeds: Japanese Black, Japanese Brown, Japanese Polled, and Japanese Shorthorn.
What is a striploin?
A striploin, also known as a New York strip or Kansas City strip, is a popular cut of beef that comes from the short loin. The short loin is located near the back of the cow, and it's where some of the most tender and flavorful cuts of beef come from. The striploin is a boneless cut that is prized for its tenderness, marbling, and rich beefy flavor.
What makes Wagyu striploin special?
Wagyu beef is known for its high degree of marbling, which contributes to its tenderness, juiciness, and flavor. The striploin is already a tender cut, but when you combine it with the intense marbling of Wagyu beef, you get a mouthwatering and luxurious eating experience.
How to cook Wagyu striploin
When it comes to cooking Wagyu striploin, you want to make sure you're not overpowering the natural flavors of the beef. The best way to cook a Wagyu striploin is to keep it simple. Season it with salt and pepper, and sear it in a hot cast-iron skillet until it's cooked to your desired temperature. You can also finish it off in the oven or on the grill to add some extra flavor.
It's important to note that because of the high fat content of Wagyu beef, it cooks faster than other cuts of beef. So be sure to keep an eye on it and use a meat thermometer to check the internal temperature.
Final thoughts
In summary, the Wagyu striploin is a luxurious and mouthwatering cut of beef that is prized for its tenderness, marbling, and rich beefy flavor. When cooking Wagyu striploin, it's best to keep it simple and let the natural flavors of the beef shine through. Whether you're a seasoned chef or a home cook, the Wagyu striploin is a cut of beef that is sure to impress.
Purchase Wagyu Striploin HERE Today!