Farm Fresh Blog
The best steakhouse burger recipe
by Darius on Jul 29, 2022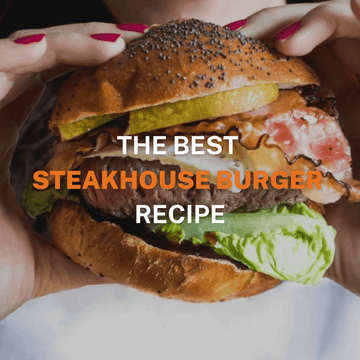 Try This Burger Recipe Tonight…
A delectable, juicy steakhouse burger is not something that anyone would want to miss out on. This Burger Recipe is without a doubt one of our favorite dishes at the office. The problem is that making them at home because most steakhouses combine different cuts of beef — such as sirloin, chuck, and short ribs – to generate taste and fat content variances in their burgers.
Even good old Kobe beef doesn't cut it in most burger recipes. You need different cuts, with just the right cut of meat to ground beef ratio. On top of that, it's extremely difficult these days to find a steakhouse that uses real cuts of beef for their burgers anymore. They are all using "buffalo". Why? It's leaner and has almost no marbling which helps make the meat less greasy while cooking on high heat resulting in a higher yield per pound.
So why not make your own at home? The reason is that you're not 25 years old anymore with two kids working another job at night! What do I know about grinding meat by hand every day?! And what about keeping it cold?
Wouldn't it be great if there was a way to have that same luxurious feeling of eating a steakhouse burger at home without the hassle and stress of spending all day grinding meat by hand? Well, my friends, I'm here to tell you that not only is this possible – it's easy! Continue reading below to learn how.
It's certainly doable to grind your own beef, but it isn't always practical. Fortunately, there is a quicker method. By combining our grass fed ground beef with a panade. A WHAT? A panade is a milk-and-bread paste that's incorporated into ground meat and formed into meatloaf and meatballs or even burgers before being folded, owing to the bread starches absorbing liquid to form a gel that covers and lubricates the food, ensuring it stays juicy.
If you've been searching for a solution to make your own burger patties at home, or simply want to improve the quality of yours, this is the recipe for you. These burgers have made me famous among my family and are incredibly simple to execute!
INGREDIENTS
2 pieces white sandwich bread, crusts removed and cut into 1/4-inch pieces
1/3 cup milk
2-1/2 teaspoons kosher salt
1 teaspoon freshly ground black pepper
3 garlic cloves, minced
1-1/2 tablespoons Worcestershire sauce
2 tablespoons ketchup
3 pounds 80 to 85% lean ground beef
3 scallions, very finely sliced (optional)
8 hamburger buns
INSTRUCTIONS
Preheat the grill to high heat.
In a large mixing dish, combine the bread and milk with a fork until it forms a chunky paste. Add the salt, pepper, garlic, Worcestershire sauce, and ketchup and stir thoroughly.
Add the ground beef and onions to a large mixing bowl, then break up the meat with your hands. Stir everything together until uniform. Make eight equal portions out of the mixture by dividing it equally. Shape little balls from the mixture using your hands. To avoid puffed-up burgers on the grill, make a small depression in the middle of each
Rub a half-lemon on your grill before grilling to keep your burgers from sticking. Grill the burgers, covered, for 2 to 4 minutes until nicely browned on one side. Flip the burgers and cook for a few minutes more until they are done to your liking. To serve, if desired, toast the buns on the cool side
Instructions for Freezer: The uncooked burgers can be frozen up to three months. Freeze the burgers on a baking sheet or plate so they keep their shape. Put them in a sealable plastic bag when they are frozen for easy storage. The best way to prepare the burgers is from frozen, so thaw them and grill them as
The best steakhouse burger recipe is a combination of ground beef and bread to make patties that stay juicy on the grill. The easiest way to prepare your burgers from frozen, so thaw them and cook them as you would fresh ones. If this recipe sounds like it's right for you, we'd love to hear what changes or substitutions you made in the comments below!