Farm Fresh Blog
Cali-Cut Striploin: The West Coast Twist on a Classic Cut
by Marie Williams on May 10, 2023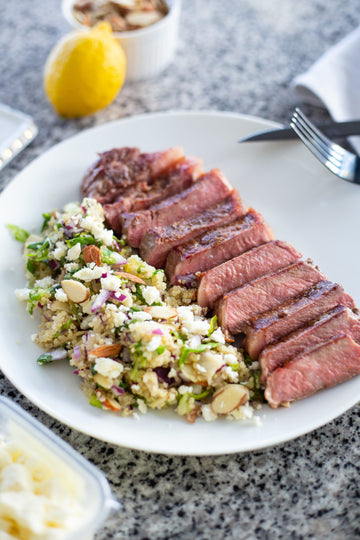 If you're a steak lover, you've probably heard of the New York strip or the Kansas City strip. But have you ever tried a Cali-Cut Striploin? This cut, also known as a boneless top sirloin or center cut top sirloin, is a favorite of California's food scene and is gaining popularity across the country.
What makes the Cali-Cut Striploin unique is its West Coast twist on the classic sirloin cut. It's lean and flavorful, with just the right amount of marbling to keep it juicy and tender. And because it's boneless, it's easy to cook and carve.
When it comes to cooking a Cali-Cut Striploin, there are a few things to keep in mind. First, make sure to season it well with salt and pepper before cooking. You can grill, broil, or pan-sear the steak to your desired doneness. For a flavorful twist, try marinating the steak in a mix of olive oil, garlic, and herbs before cooking.
One great thing about the Cali-Cut Striploin is that it's versatile enough to be used in a variety of dishes. Slice it thin for a steak salad or sandwich, or serve it whole with a side of roasted vegetables. You can even use it in stir-fries or fajitas for a delicious twist on classic dishes.
Ingredients:
1 thick-cut striploin Cali-cut steak (1 1/2 to 2 inches thick)
1 tablespoon olive oil
Salt and freshly ground black pepper
Instructions:
Take the steak out of the refrigerator and let it come to room temperature for at least 30 minutes.

Preheat your oven to 375°F.

Season the steak generously with salt and freshly ground black pepper on both sides.

Heat a cast-iron skillet over medium-high heat. Add the olive oil and swirl to coat the bottom of the pan.

When the skillet is hot, carefully place the steak in the pan. Sear for 2-3 minutes on each side, or until a nice crust forms.

Transfer the skillet to the preheated oven and roast for 6-8 minutes for medium-rare doneness. Use a meat thermometer to check the internal temperature; it should read 130-135°F.

Remove the skillet from the oven and let the steak rest for 5-10 minutes before slicing.

Slice the steak against the grain and serve immediately.
Note: Cooking times may vary depending on the thickness of the steak and the heat of your oven. Use a meat thermometer to ensure the steak is cooked to your desired level of doneness.
Overall, the Cali-Cut Striploin is a tasty and versatile cut of beef that's perfect for any occasion. Give it a try and discover why it's a favorite of foodies on the West Coast and beyond.
Purchase Cali-Cut Steak HERE Today!