Farm Fresh Blog
Building The Ultimate OVM Summer Box!
by Jordan on Jul 29, 2022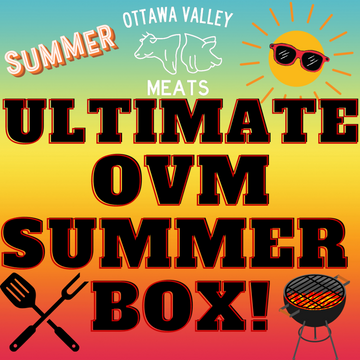 Well, the summer weather is certainly here, and in a few weeks summer will be in full swing in the Nation's Capital. Now is the perfect time to get planning for what will be on the grilling menu, and there are lots of options to choose from here at OVM. We love that we have the ability to offer our customers a vast assortment of local farm-fresh protein ready to slap on the grill. So how do you go about building the ultimate OVM summer delivery box you ask? We compiled a list of staff and customer favourites to make the selection process a little easier for everyone, keep on reading to find the fan favourites you can't miss this summer!
Beef:  
Rib Steak: This is 16oz (1lb) of grass-fed, grass-finished goodness sliced from the rib primal of the cow. Similar to the standard ribeye steak but the bone is left on the steak to enhance the overall flavour once cooked. Watch the AAA Black Angus Rib Steak become a frequently requested item for the upcoming summer grilling season!
Beef Patties: No dye, no fillers, no gluten, no bad stuff…period! Made from our 100% grass-fed, grass-finished AAA Black Angus ground beef, Cook these beauties right from frozen on the grill. Dress them up with your favourite toppings or leave them bare and let the flavour natural flavour of the beef shine through. Each package contains 3 patties weighing 5.5 oz each (1lb total package weight), they are sure to be a staple item on the grill.
Hot Dogs (All-Beef): A classic for any picnic, BBQ or camping no matter the weather. You can't go wrong with these all-beef hot dogs, no fillers, no junk, just purely beefy goodness. These dogs will bring back all the nostalgic feelings from years past, but the flavour will be like nothing you have experienced before. Each package comes with 6 weiners, make sure to stock up on these, the family will love them!
*Bonus Crowd Pleaser*
Tomahawk Steak: Sometimes you need to pull out all the stops for any grilling situation that could arise. Whether it's a celebration, special event or even just a luxurious night in, one of our Tomahawk steaks is sure to impress and while you're at it, might as well make it two 😉 The Tomahawk is one of the most stunning steaks money can buy. Featuring a thick cut of flavorful ribeye at one end, this steak is hard to miss and it's easy to cook. The rich flavour will fill your mouth with juicy goodness you'll love every second of it. Click BUY NOW and get ready to sink your teeth into one of these bad boys today!
Pork:

Pork Chop: Some people think a pork chop should only be done in the pan on a stove or in the oven. We here at OVM have to respectively disagree and let us tell you why. Like a perfectly grilled steak, a perfectly grilled pork chop is nothing to sleep on. Start it off low and slow to let all that natural fat render into the meat and once that process is complete, crank up the temperature to finish off with those tantalizing grill marks. Finish it off by slathering some of your favourite BBQ sauce to get a nice glaze finish and you can call it a day. Our 8oz pork chops are from all free-range heritage pigs that are just bursting with flavour, You will never look at a pork chop again the same!
Sausages: Our in house-made sausages are just to die for! No fillers, all-natural casing, no gluten, no junk, just the pork and respective spices, that's it! Sausages can sometimes be hit or miss, especially if they are being purchased from a grocery store, but fear not, no matter the flavour selected, all our sausages here at OVM are a home run! Each package contains 1lb of sausages made from our free-range heritage pigs. Throw them in a bun or eat them solo, pick a few flavours to really mix things up this summer on the grill.
Pork Tenderloin: While some people may think cooing a pork tenderloin on the BBQ may be a little unconventional, our super juicy tenderloins make the barbequing experience a real treat. Once again start the cook-off low and slow to let all that natural fat render into the meat and once that process is complete, crank up the temperature to finish off with those tantalizing grill marks. A nice glaze to finish will really elevate the tenderloin and take it to the next level. Each tenderloin is 1lb from our free-range heritage pigs, be adventurous and give a barbequed pork tenderloin a try!
Chicken:
Wings: An appetizer to some but don't doubt that a couple of pounds of these will be all the protein needed for a night at the grill. Our chicken wings come from organically fed and raised White Rock chickens in a free-range environment that makes them a real mind-blowing experience. Super juicy, tons of meat on the bone, these puppies will not slip in between the grill grates. Season with salt & pepper and finish with your favourite sauce, whether you're a flat or drum person you will never go back to a grocery store wing again.
B/S Thighs: Boneless skinless thighs have to be one of the most underrated protein items to throw on the grill. That juicy air chilled, no water added dark meat really hits different when they get a nice grill char on them. Season them to taste or leave them bare, either way, they will be sure not to disappoint this grilling season! Our thighs are packaged in 1lb portions, from our White Rock pasture-raised chicken here in the Ottawa Valley, you will taste the difference in pasture-raised chicken from the first bite, we promise!
Whole Chicken: This one might be a little harder for some people as a rotisserie is recommended to do the cook on a BBQ. Who doesn't love a well seasoned, slow-cooked rotisserie chicken, are we right? We know you smell them as you cruise by the deli section in your local grocery store but now imagine smelling that in your own backyard with only the highest quality chicken being used, now that sounds amazing. Our White Rock whole chicken averages 3.5lbs in weight, they are gutted and ready to throw right on the rotisserie. Remember to collect those drippings and baste your bird every 30 mins or so to really ensure a juicy product at the end.
There you have it, those are some of the favourites/ best selling items here at OVM that will make grilling this summer a real treat.  Make sure to browse our full website containing all-natural, free-range, drug-free, local animal proteins. Now get out there and get grilling!